Annual Meeting of POGO is held in Qingdao
The 21st annual meeting of the Partnership for Observation of the Global Oceans (POGO-21) was held in Qingdao on January 19-22, 2020. This meeting was organized by the First Institute of Oceanography of the Ministry of Natural Resources (FIO, MNR) and Pilot National Laboratory for Marine Science and Technology (Qingdao). POGO Chairman Nicholas Owens, Deputy Inspector of MNR's Marine Forecasting and Monitoring Department Chen Zhi, Chief Engineer of Chinese Arctic and Antarctic Administration (CAA) Xu Shijie and FIO Director Li Tiegang attended the opening ceremony and delivered speeches. Other participants present at the event included more than 90 leaders, experts and scholars from over 50 oceanology institutes at home and abroad or international organizations (programs), including Scripps Institution of Oceanography (SIO) and Woods Hole Oceanographic Institution (WHOI) in the USA, Plymouth Marine Laboratory (PML) in the UK, Alfred Wegener Institute Helmholtz Centre for Polar and Marine Research (AWI) in Germany, French Research Institute for Exploitation of the Sea (Ifremer), Shirshov Institute of Oceanology in Russia, CSIRO Marine and Atmospheric Research in Australia, Japan Agency for Marine-Earth Science and Technology (JAMSTEC), Korea Institute of Ocean Science and Technology (KIOST), as well as FIO, Institute of Oceanology, Chinese Academy of Sciences (IOCAS) and Pilot National Laboratory for Marine Science and Technology (Qingdao) in China.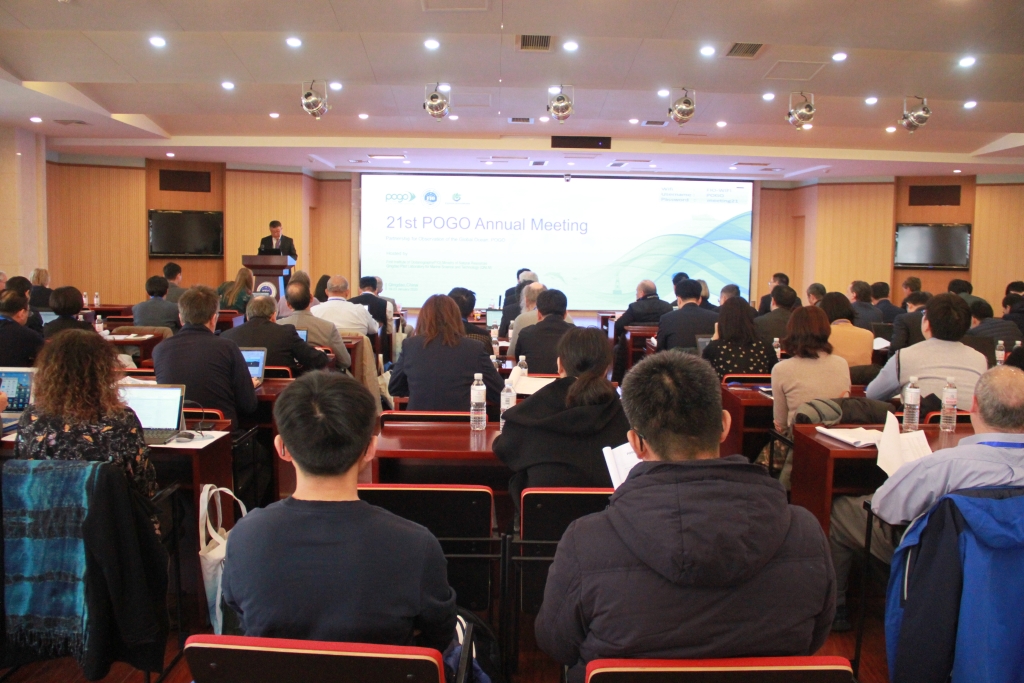 On-site Situation

At the opening ceremony, Li Tiegang, director of FIO, extended a warm welcome to all the experts attending the meeting on behalf of the organizers. Director Li Tiegang pointed out that FIO has always focused on and effectively promoted international cooperation in marine science and technology, and is China's most active scientific research institute in the marine field. Up to now, FIO has established close exchanges and cooperation with more than 50 scientific research institutions in over 30 important marine countries and regions, actively promoted the construction of international scientific and technological cooperation platforms, and assumed the task of organizing and operating 10 international cooperation institutions. In the future, FIO will participate more deeply in cooperation in the field of global ocean observation. It will actively promote the large-scale China-Russian international research program on the Arctic Ocean based on the FIO-POI China-Russia Joint Research Center of Ocean and Climate (JRCOC), as well as carry out regular joint scientific investigations on major scientific issues of the Polar Silk Road to further deepen the understanding of environmental changes in the Arctic. In addition, FIO will continue to further promote cooperation with Indonesia, Thailand, Malaysia, Sri Lanka, and Maldives among other countries. It will continue to carry out joint observations in the Indian Ocean, actively participate in important international programs such as the "Second International Indian Ocean Expedition", promote the establishment of a national marine environment forecasting system which serves countries along the Indian Ocean on the Maritime Silk Road, and provide international public welfare services in the fields of marine environment and climate forecasting and early warning.



FIO Director Li Tiegang delivers a speech
POGO Chairman Nicholas Owens said that POGO aims to promote global marine scientific research, especially the implementation of international and integrated ocean observing systems. The most basic principle of POGO is to share ideas and knowledge, explore unknown areas by sharing known information, and coordinate future plans accordingly. The member units of POGO come from many countries in the world and three of them are from China. POGO welcomes more scientific research institutions from China. In an interview with the media, Nicholas Owens also said that the concept of "building a maritime community with a shared future" proposed by President Xi Jinping and the "Decade of Ocean Science for Sustainable Development" initiative to be officially launched by the United Nations next year will play a huge role in promoting the development of marine science. We have only one earth and one ocean. Human beings should realize the importance of oceans to all mankind and work together to protect the marine environment. This is also what POGO strives for.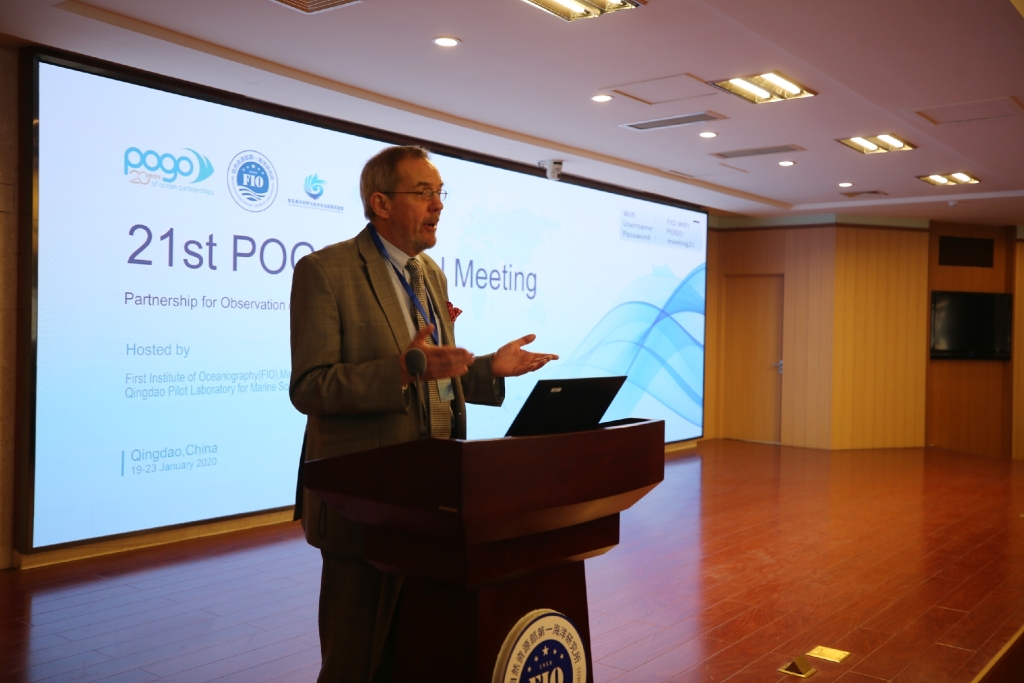 POGO Chairman Nicholas Owens delivers a speech
Deputy Inspector Chen Zhi pointed out that the Ministry of Natural Resources attaches great importance to the construction of a three-dimensional global marine observation network. After years of development, China has initially built a relatively complete three-dimensional global ocean observation and monitoring system, which helps cultivate an ability to conduct operatable observation and monitoring covering the sea areas under China's jurisdiction and key ocean areas, and provides important scientific and technological support for marine economic development, marine disaster prevention and mitigation, marine ecological early warning, marine resources development and utilization, and maritime navigation safety assurance. China is willing to strengthen cooperation with POGO to jointly promote the implementation of international and integrated ocean observing systems, and work together to address climate changes, protect marine ecology, and prevent and mitigate natural disasters. It aims to make positive contributions to building a community with a shared future for mankind.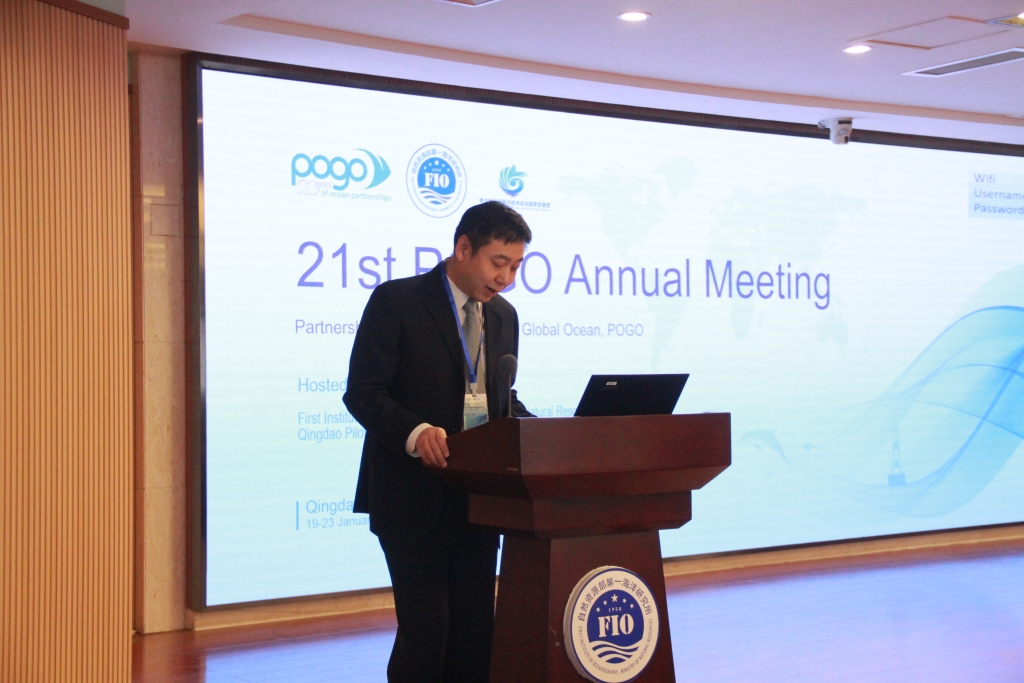 Chen Zhi, Deputy Inspector of MNR's Marine Forecasting and Monitoring Department, delivers a speech
Chief Engineer Xu Shijie pointed out in his speech that China has made new progress in polar exploration in recent years. So far, China has completed 35 Antarctic expeditions and 10 Arctic Ocean expeditions. China also actively participates in major international scientific and technological programs related to polar regions, such as YOPP, MOSAiC, and SOOS, and promotes bilateral and multilateral marine scientific and technological cooperation with the United States, Canada, Germany, and Australia among other countries. CAA will continue to expand international cooperation in ocean and polar observation, carry out in-depth observation researches on the Antarctic Ocean, the Antarctic Pole and the Arctic Ocean, and play a greater role in POGO, an important international ocean observation organization.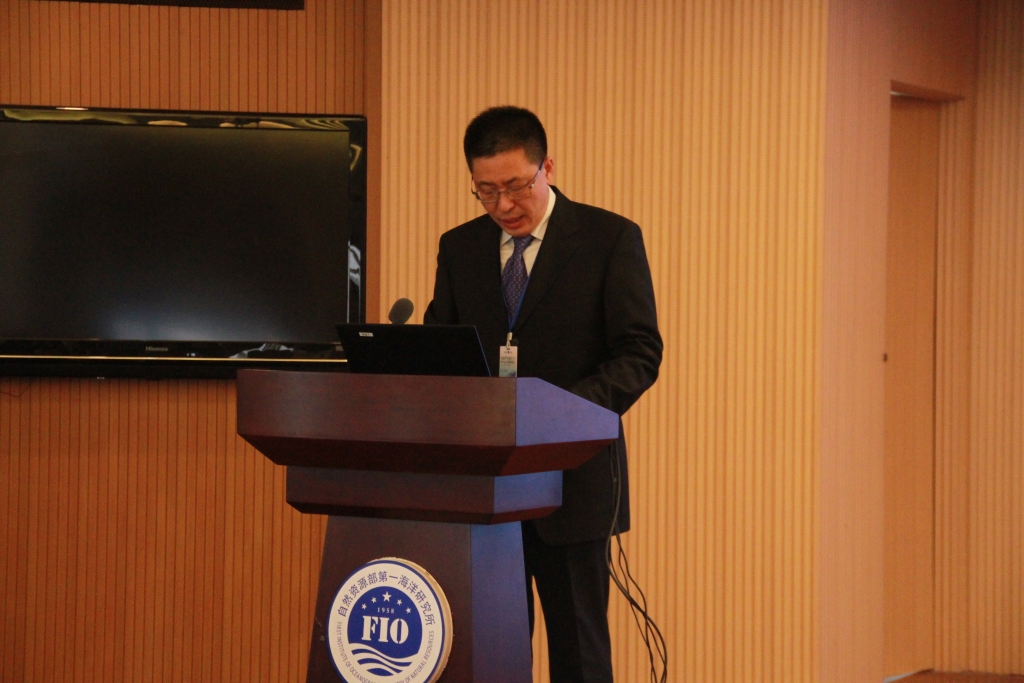 Chief Engineer of CAA Xu Shijie delivers a speech
The POGO-21 reviewed the key tasks rolled out by POGO in the past year and planned the future ocean observation missions. POGO promoted the development of ocean observation science and technology by supporting working groups, raised people's awareness in the importance of ocean observation through various forms of activities, strengthened the capacity-building of ocean observation through training for young scholars, and supported observation-related technological innovation by virtue of project implementation. POGO's member units reported on their work in the field of ocean observation and their future plans. International organizations such as SCOR, CLIVAR, IQOE and SAON also made presentations on their progress and plans.
At the POGO-21, Researchers Qiao Fangli, Wang Fan, Chai Fei, Du Yan, Peng Wei, Liu Yanguang and Liu Lin reported on China's progress and representative achievements in the field of ocean observation and forecasting, respectively. Through in-depth exchanges and discussions, important consensus was reached on further strengthening cooperation in global marine scientific research and joint observation. It is of great significance for the world to jointly deal with global climate changes, protect the marine ecological environment, improve the disaster prevention and mitigation ability in the marine field, and promote the construction of a maritime community with a shared future.
The establishment of POGO can trace back to March 1999, when the Directors of SIO, WHOI, and the National Oceanography Centre Southampton (NOCS)in the UK, convened a planning meeting in the headquarters of the Intergovernmental Oceanographic Commission (IOC). It is a forum for the heads and leaders of the world's major marine research institutions. POGO currently has 48 member units from major marine research institutions in the world, and its secretariat is located in PML, UK. At present, FIO, IOCAS and Pilot National Laboratory for Marine Science and Technology (Qingdao) are members of POGO. FIO's Researcher Li Tiegang also serves as a member of the POGO Board of Trustees.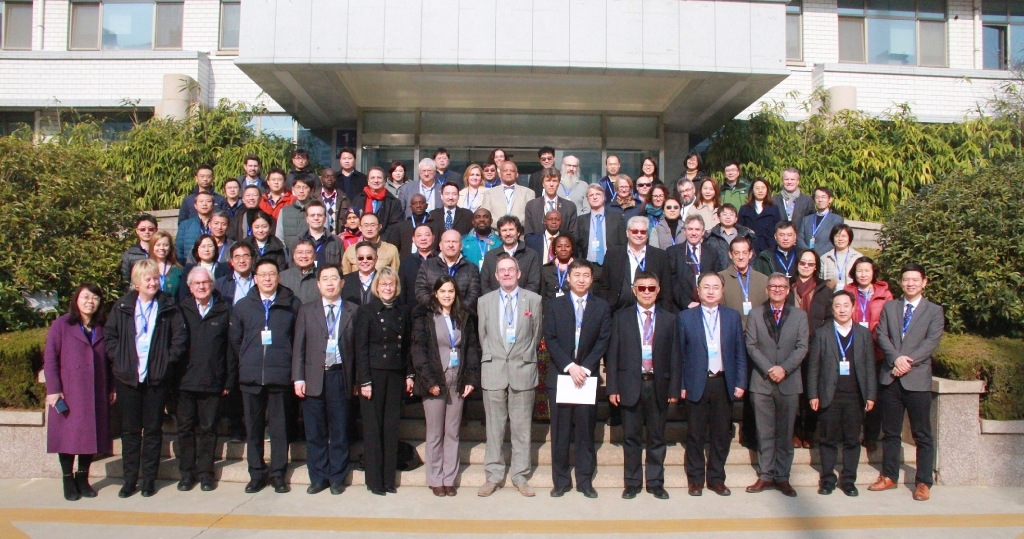 Group Photo